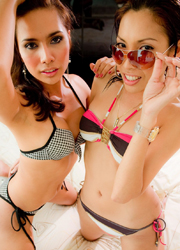 Name:
Ladyboy Various
Birthday:
Various
Weight:
Various
Height:
Various
Cocksize:
Various
Biography:
...
Continue to Model Biography

Sundress Rimming Creampie Massage 4k
Description: Dirty Massage episode 12. Aemy's girlfriend dress is above her waist and legs high as her stretch backdoor is bred with hot spunk. Aemy starts off lifting her skirt and spreading her buns, showing her beautiful winker. Aemy shyly pisses in the toilet then heads to bed. Aemy is barefoot with cute anklet and painted toenails. Aemy stands on the bed and gives an upskirt view of her dangling girl-cock. Aemy lowers her top to show her perfect, perky, all-natural tits. She's revealed her incredible body and jutting, oiled up erection. It's time to start the oil massage. Aemy has the guy lay on the bed and saunters in. Aemy has a squirt bottle full of coconut oil and applies copious amounts to the naked guys body. Aemy massages from head to toe, caressing every inch of the naked man. Aemy straddles the guy, thrust-rubbing her cock against the guy. She spreads the guys ass and dips her pretty face down to smell and rim the guys asshole. Aemy licks the guys feet and sucks on his toes. Her touches feel heavenly and she knows how to give pleasure. Aemy has the guy turn over and presents her cock to the guys face. Aemy reaches back and gently strokes the man's erection. Next Aemy moves to 69 position to deep throat while the guy tongue-fucks her beautiful butthole. The man's legs lift high and Aemy gives a hot rimjob. Now get a scalding view from behind as Aemy's buns and winker are oiled up and penetrated. Aemy moves in front of the guy and enjoys POV frottage of the two oiled dicks rubbing together. Aemy gets back to more deep throating and deep ass-licking for the lucky guy. The guy almost cums from Aemy's incredible blowjob but wants to bareback this lovely dickgirl. Aemy is fucked doggystyle, with views from above and underneath. After some face-down-ass-up fucking a glass buttplug slides snugly inside Aemy. The buttplug pops in and out of Aemy's willing hole and her cock played with. Aemy is next fucked missionary style. It's a brilliant view of Aemy's tits and exposed cock as the Farang's cock slides inside. A clear Fleshlight masturbation toy slips around Aemy's dick and she gives an ass-to-mouth blowjob. As she fucks the toy red anal beads slide deeply and rub Aemy's excited prostrate. In and out the beads slide then a cock-shaped dildo stretch Aemy even more. As she's pleasured the guy sits on Aemy's pretty face and she laps greedily at the man's asshole. The last toy is an inflatable buttplug that dilates Aemy fully. After the toy session the bareback dick slams back into Aemy's willing hole. It doesn't take long and Aemy's orgasm builds, then erupts a shiny rainbow of sperm all over her belly and up to her tits. Sperm trails down her oil-slick body and Aemy devours some of her cum. Aemy sucks on the cock more as it's pulled from her ass-pussy. She loves the tastes of sex and worships the man's balls. The man wants to bred Aemy and she lays back with her legs high. It's a view from underneath watching the bare cock penetrate Aemy's o-ring and pound her deep. Aemy spreads her buns and the cock throbs. Sperm unloads onto Aemy's puffy asshole and while still cumming pushes back inside. Aemy's asshole is fully bred with hot sperm and she loves it. She makes sure to have a taste of the cum on her asshole then goes into the shower to cool down. We hope you enjoyed Aemy and another "members only" Dirty Massage session for our LadyboyGold network supporters!