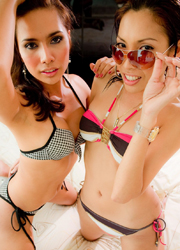 Name:
Ladyboy Various
Birthday:
Various
Weight:
Various
Height:
Various
Cocksize:
Various
Biography:
...
Continue to Model Biography

Oiled Hardbody Femme Creampie 4K
Description: Ladyboy Sex Chair episode 9. Maya's a flat-chested, race-horse femme who's driven to cum with dirty sex! Maya oils her muscular abs and cock-packed, sheer panties in anticipation of a sweaty barebacking session. Her cock throbs and is barely contained in her see-through panties. Maya oils her flat chest and tiny bullet nipples with coconut oil and spreads her tight buns. Maya's rosebud is there for the taking. Maya joins a POV man in bed with the idea of a massage to start. But after gently massaging the man's feet and legs Maya can't get past the erection that's starring her in the face. She hypnotically starts stroking the cock and instinctively takes the cock meat in her mouth. Maya's tongue swirls around the cock then makes a direct line to the man's asshole. She jams her pretty little face between the man's ass cheeks, fully inhaling and tasting every bit of primal sex. She takes deep inhales of the erect cock, as if it's the most wonderful cologne she's ever smelled. Maya pistons her mouth on the cock and jams all of it down her throat. Maya loves that she can making dicks hard and gets pleasure from giving it to others. She rubs her's and the POV's cocks together in steamy, slippery frottage then bends over submissively for whatever's next. Maya's tight backdoor is opened by a medium size buttplug. The rosebud of her anus pushed in and shiny anal ring stretched around and swallows it whole. Her buns are like a peach and the Farang rears up and stuffs his bare dick inside Maya's lovely shitter. Maya's cock is erect the whole time and loves being toyed with sexually. Large red anal beads snake deep into Maya's bowels and against her horny prostrate. Maya is played with more laying on her back with her legs high like a sissy. Her butthole filled with bareback cock and toys. She licks the cock passionately and sniffs the scents of sex. Maya eats the man's asshole more and is on the brink of orgasm. The man wants to see Maya's cumshot and slides his bare cock inside her hot hole. Maya pumps her strong dick as he's fucked with her feet pointing to the sky. Views from above and underneath of Maya's ass-pussy ravished by older Farang dick. Maya can't hold back any longer and sprays a BIG CUMSHOT all over her hard flexing abs. The man pulls his cock from Maya's pulsating asshole and feeds it to her. While Maya slurps on cock the guy scoops up the sweet protein from Maya's abs. A handfull of her own jizz is fed to Maya and her eyes roll in pleasure. The guy wants to cum now too and takes the oil and squirts it directly into Maya's ass. Her rectum is well-lubed and the bareback dick slides deeply inside. After only moments the man is ready to cum and explodes cum inside Maya and all over her well-used asshole. The cock slips around the slimy cum and re-inserts back inside her Femboy fuckhole. Maya lays back and opens her asshole, showing it wink and gape wildly from the raunchy bareback session. With her balls spent Maya goes into the bathroom to empty her bladder. Golden piss rainbows from her piss slit then she cleans herself off in the shower. Maya is a lovely fit Fem and only on the LadyboyGold Network.
Video length:
45:39
Model(s):
Various
a Ladyboy Gold exclusive
Views:
2915
Categories:
Anal
,
Anal Toys
,
Bareback
,
Blowjob
,
Close-ups
,
Creampie
,
Cumshots
,
Deep Throat
,
Fetish
,
Frottage
,
Gaping
,
Handjob
,
Hardcore
,
Lingerie
,
Natural Tits
,
Panties
,
Pissing
,
POV
,
Rimming
,
Small Tits
,
Stroking
,
Wet