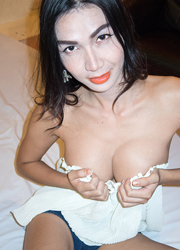 Name:
Ladyboy Bella 3
Birthday:
22nd of July
Weight:
107.8 lbs (49kg)
Height:
5'5 (165cm)
Cocksize:
5 Inches (12.7cm)
Biography:
Bella is gorgeous Kathoey who turns heads where she goes. Her pretty face sits a top some of the biggest tits-to-body-size ratio you'll encounter. ...
Continue to Model Biography

Facesitting Rimjob Sperm on Gape Massage 4K
Description: Dirty Massage episode 27 with Bella. TWO CUMSHOTS! Bottomless Bella has her ass stretched by GIANT anal toys, slurps on a mans asshole until she cums and spreads her gape for sperm! Bella is wearing a colorful bikini that allows for her tits to pour out and her cock to slip from the bottoms. Bella shows her bod then has a man lay face down for an oil massage. Bella rubs the man from head to toe, paying the most attention to the man's ass and butthole. Her cock is out as she dips her face into the man's crack. Bella licks the guys butthole in a long session, spreading the buns to get her tongue in deep. Bella has the man turn over and squats on the man's face. The guy deeply rims Bella as she bobs her face up and down on his erection. Bella's asshole zeros in on the spit-soaked dick and she slides it up her willing backpussy. Bella takes the cock from her ass and licks it clean in ass-to-mouth fellatio. The view switches to POV with a glorious view of Bella's slippery stick. Both her's and the man's rods rub together with the scent of coconut oil filling the room. Bella lays back with her ankles pointing skyward and butthole ready. Her ass is stuffed with graduating sized buttplugs (medium to XL) and anal beads. Bella even has a big head vibrator shoved up her elastic butthole and wants more. In between toys the bareback cock slides easily ball-deep inside Bella. The cock is fed to Bella from her asshole and Bella cleans it off. The man sits on Bella's face and she inhales and laps hungrily at the man's hairy browneye. The raw slippery cock enters Bella and her gape and wrinkled o-ring is shown off nicely. Large anal beads slip and out of Bella's overloaded anus. Bella takes a pee break and so follow her into the toilet. Bella takes a long hot piss, with the man cupping her pee and Bella licking piss off the man's fingers. Dirty sex is how Bella likes to cum and especially while giving rimjobs. There's something so submissively primal about licking out another's butthole. Bella loves the subservient dirtiness of eating a man's ass and it causes her dick to throb and orgasm to build. Bella spurts her sticky load, with some landing on the man's cock. Bella licks the man's cock clean of her girl-juices and is ready to be bred. Bella opens her slimy, well-fucked asshole for more bareback and sperm. The man is ready to cum and the sight of Bella's gazing gaped hole bring him over the edge. Thick ropes of spunk erupt from the man's dick directly into Bella's whore hole. She's a mess of cum and the cock pushes sperm inside her wonton butthole. With sperm in her loins and her balls emptied Bella goes into the shower bringing this Ladyboy Dirty Massage session to a finale. Only on the LadyboyGold Network.