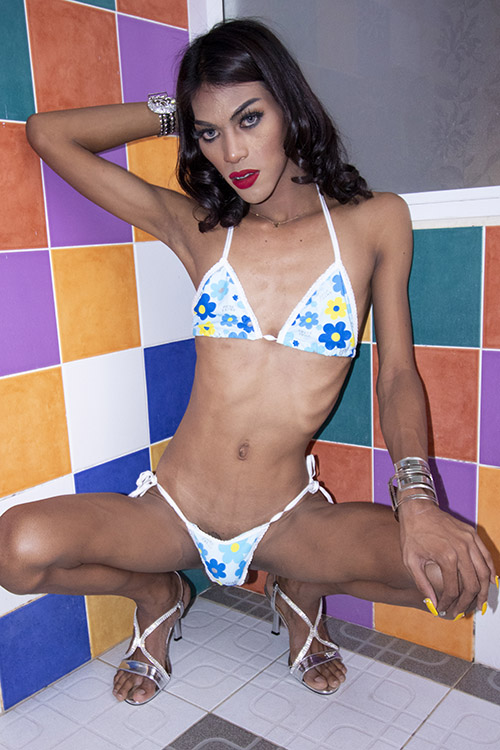 Name:
Ladyboy Polla
Birthday:
Oct 15
Weight:
154lb (70kg)
Height:
6'1" (185cm)
Cocksize:
8.3 Inches (21 cm)
Biography:
Ladyboy Polla is a dark-skinned, tall and slender-framed girl. She's a wet dream for lovers of fat, giant cock Ladyboys. Polla is well-endowed with a...
Continue to Model Biography

Huge Dick, Ball-Draining 5x Cum Massage 4K
Description: Dirty Massage episode 29 with Polla. FIVE CUMSHOTS! Monster cock Polla unleashes her Ladyboy anaconda, giving up her backdoor for pushed in creampies and cum from and on her big dick. Polla's stallion figure is dressed in a tiger print miniskirt with no panties. Her long lithe legs in heels and her butthole and swinging meat ready for all pleasures. Polla starts off the session teasing the guy with her oiled-up erection and the man is in COCK LUST. He can't wait for the massage and dives right into to experience Polla. Her winking butthole enticing the man for bareback pleasure. Polla opens her asshole with a dildo, with hers and the man's slippery dicks rubbing together in frottage. The dick slides easily into Polla's elastic backdoor. The POV dick goes balls deep then fed to Polla in ass-to-mouth action. She is DRIVEN to cum and greedily eats the mans asshole while stroking her meat. Long red anal beads enter Polla next, followed by a curved, ribbed prostrate toy. The toys slide out of Polla's gaper and the bareback dick plunges back inside. Polla strokes her cock and even uses a masturbation fleshlight. Her giant dick almost can't fit inside the fleshlight and she fills it completely with throbbing Kathoey meat. Polla rapidly jerks her incredible member, unleashing a gooey load while deeply rimming the man's asshole. Her abs are covered in sticky-sweet sperm and hefty cock temporarily satisfied. Polla spreads her asshole WIDE for the man to cum. A big load launches all over Polla's flexing anus with the cock pushing sperm inside her lovely hole. With both their balls emptied it's time for the massage. Polla anoints the man's body with oil and plays with the man's butthole. Her long fingers pushing inside the face-down man's asshole. Polla loves anal sex and her cock starts to get hard again starring at the man's hole. Polla squirts copious amounts of coconut oil on the guy's ass crack and glides her cock against his bottom. Polla sneakily tries to mount the man, her mammoth dick and engorged cockhead forcing into the man's hole. But alas her dick is simply too big for mere mortals. The man turns over and Polla's perfect puckered anus sits on the man's face. The man eats Polla's pretty hole, French kissing inside her lovely back-pussy. The man is erect again too and Polla sucks on the cum-dripping erection. Polla stares at the man's asshole and strokes her rigid cock. She tries again to get her dick inside but it's too gloriously big. Polla jerks off and the man is horny just watching her. As Polla strokes the man cums all over Polla's fat cock. The lube of the man's cum excites Polla and she squirts another BIG cumshot, right into the camera guys face! Her sweet cum squirts all over and tastes delicious. Seeing this horse dick Ladyboy cum is a sight to behold and the man wants to cum for the THIRD time! Polla lays prone and spreads her little ass cheeks. Her butthole and big cock are completely exposed and a target for cum. The man unloads onto Polla's open anus and pushes more cum inside her. Polla's butthole winks wildly as it drips with hot spunk. With 5 loads shot, 2 from Polla and 3 from the guy, their balls are wonderfully emptied for now. Polla goes to the shower to wash off and give a view of her slim, strong naked body. This Ladyboy Dirty Massage session is only on the LadyboyGold Network.
Video length:
1:36:16
Model(s):
Polla
a Ladyboy Gold exclusive
Views:
5621
Categories:
Anal
,
Anal Toys
,
Ass to Mouth
,
Bareback
,
Big Cock
,
Big Tits
,
Blowjob
,
Close-ups
,
Creampie
,
Cumshots
,
Dildo
,
Fetish
,
Gaping
,
Handjob
,
Hardcore
,
High Heels
,
Mini Skirt
,
Oil
,
POV
,
Rimming
,
Stroking
,
Upskirt
,
Wet