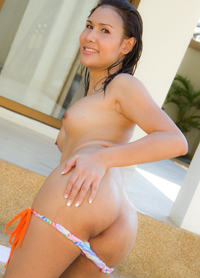 Name:
Ladyboy Oil 2
Birthday:
14th of September
Weight:
117lb (53kg)
Height:
5'5 (165cm)
Cocksize:
SRS
Biography:
Cute Oil could pass for the girl-next-door, with no one but a privileged few knowing her SRS secret. Oil first caught our eye in an amateur set and...
Continue to Model Biography

Bareback Topping 4x Cum Dirty Massage 4K
Description: Dirty Massage episode 30 with Oil. FOUR CUMSHOTS! Chocolate Thai racehorse Oil slides her bare cock into the ass of a face-down Farang! Oil cums all over the mans butthole and licks off her own juices! There's 4 cumshots in this slippery, flip-flop barebacking massage session. 2 from Oil and two from the guy. Oil is dressed in a slutty, hot pink tube-style miniskirt. She's wearing fishnet pantyhose with the crotch ripped open with no panties. Her long, ebony cock swinging powerfully between her fit thighs. Oil shows off her voluptuous rack and tight backdoor before attending to the man. Oil starts the dirty massage by taking off the socks of the face-down man and licks toes and soles. Oil seductively licks and softly bites the heels and feet. Taking the bottle of coconut oil, Oil squirts onto the man's balls, taint and asshole and plays with the man. She smacks her beautiful dark erection against the man's hole and caresses the peek-a-boo cock. Oil loves to top and gliding her dick against the man's bare hole drives Oil wild. Oil licks at the pink rosebud , her rimming making the man's anus wet with spit. She presses her cocktip against the guy's anus to warm the man's hole. Oil makes sure the man and her relax and then pounds her black mamba inside. Oil gives a close-up POV view of her dick filling the man's anus. After some fucking Oil has the man turn over and sits on his face. She plays with both their cocks in frottage as the man deeply rims her delicious back-pussy. Oil has incredible deep throat skills and bobs her face on the man's rigid meat. Oil lays back with her ankles pointed skyward and butthole ready to bottom. The Farang gives her a sniff and slides bareback dick in Oil's tight winker. Raw cock then a buttplug penetrate Oil. She's driven to cum and has the man lay back for more topping and cum. She unloads her cumshot on the man's butthole and licks off her yummy spunk and rims the man's winking hole. Oil next rides the man's erection cowgirl and reverse cowgirl style, with her bringing the man close to orgasm. Oil slides the dicks from her asshole and pumps the slick rod and oils it more. She uses her slender fingers to pump the cock into her mouth. The man unloads a big cumshot into Oil's mouth as she milks as much jizz out as she can. Oil wants to cum again, and lays back to jerk off. The man vibrates Oil's loins and licks her nipples. Oil pops her SECOND CUMSHOT! The man gets excited again seeing Oil cum and wants to cum again too. Oil lays on her tummy with her tiny buns in the man's face. Oil spreads her ass cheeks wide with two hands. The man tongues Oil's open, tender backdoor and is ready to cum. The man places his dick against Oil's precious pucker and explodes sperm onto her exposed o-ring. With 4 cumshots spent Oil goes into the shower to cool down and bring this Ladyboy Dirty Massage episode to a finish. Only on the LadyboyGold Network.
Video length:
1:49:25
Model(s):
Oil 2
a Amateur Ladyboys exclusive
Views:
3694
Categories:
Anal
,
Anal Toys
,
Ass to Mouth
,
Bareback
,
Big Cock
,
Big Tits
,
Blowjob
,
Close-ups
,
Cumshots
,
Facials
,
Fetish
,
Gaping
,
Handjob
,
Hardcore
,
Mini Skirt
,
Oil
,
Pantyhose
,
POV
,
Rimming
,
Stroking
,
Upskirt
,
Wet