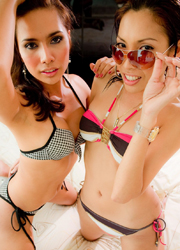 Name:
Ladyboy Various
Birthday:
Various
Weight:
Various
Height:
Various
Cocksize:
Various
Biography:
...
Continue to Model Biography

Big Ass Open & Bred Sex Chair Slut 4K
Description: Ladyboy Sex Chair episode 6. Nansy is the perfect bottom and spurts a HUGE CUMSHOT while being barebacked in a sex chair. Flat tit and big ass Nansy is wearing a sundress with tiny white panties. Her thong holds her sweaty bulge and gives hints of her lovely wrinkled backdoor. The panties are pulled aside and her anus is gaped with buttplugs and a throbbing bareback cock. Nansy tastes the cock from her asshole. Her tongue swirls around the Farangs erection and Nansy eagerly feasts on the mans asshole. Nansy is all about horny pleasure and deep throats with pleasure. Nansy next climbs into the sex chair and her cock drips precum. Her slippery dick rubs with the man's and her exposed anus winks for bareback penetration. Nansy is throttled in the chair, helpless to the deep assault from the sex rocking. Nansy's willing anus GAPEs as it's constantly filled with bareback dick and big anal toys. Nansy takes a break from fucking to lap more at the man's balls and anus. She submissively licks the mans feet, tasting toes and soles with her pink wet tongue. Nansy is bent over for more toy and cock stuffing. Then back in the chair for a sex chair cowgirl ride. Nansy is ready to blow her load. The man's dick slides in and out of Nansy's slippery back-pussy and against her prostrate. Nansy's orgasm builts and she shoots a big RAINBOW of cum all over herself. The guy scoops the cum from Nansy's shiny belly and feeds it to her. Nansy is fucked by the guy in multiple positions and is ready to cum. He pumps a gallon of cum into Nansy, breeding her hairless open hole with man juice. Nansy is bred like the wanton slut she is and LOVES IT. To close out the session Nansy goes into the shower and soaps up her shiny, powerhouse body. A hot sexchair session with the one-of-a-kind dickgirl Nansy, only on the LadyboyGold network.