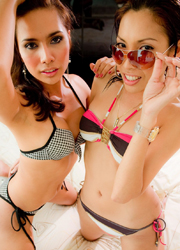 Name:
Ladyboy Various
Birthday:
Various
Weight:
Various
Height:
Various
Cocksize:
Various
Biography:
...
Continue to Model Biography

Stallion 4x Cum Perfect Bareback Massage 4K
Description: Dirty Massage episode 26 with Nanny. Hung Nanny gives the ultimate dirty barebacking massage, with the man and Nanny cumming multiple times! The episode starts with Nanny fresh from the shower. A flash of her incredible body from opening her towel and the guy forgets all about getting a massage. Nanny's horse cock is on full display, dangling and getting rockhard knowing she's going to get filthy in hot, gaping anal sex. Nanny sheens her body with slick coconut oil from head to toe making the guy wild. Nanny lays back in bed and spreads her buns wide. Her cock twitches as her butthole winks ready to be played with. The man strokes Nanny's slick dick and beads of precum emerge from her piss slit. The man touches the stringy precum and feeds it to Nanny. Their cocks are fully erect and rub together in frottage bliss. The man is so turned on his bareback dick naturally zeros in on Nanny's anal prize. The POV dick slides through Nanny's anal opening and deeply in her slippery sphincter. Nanny slowly strokes her own cock, not wanting to cum too soon from anal pleasure. The cock plunging cock is pulled from Nanny's asshole and fed to her hungry lips. Nanny gives an INCREDIBLE ass-to-mouth blowjob licking the Farang's shaft clean. The man sits on Nanny face and she hungrily eats his asshole. The man trains Nanny's backdoor with anal beads, a smooth glass toy and bareback cock making sure to let Nanny taste herself. Nanny is wild with cock lust and inhales deeply for a plugging from a black buttplug. Her asshole dilates widely letting you see inside this horse-cock angel. Nanny is on the brink of orgasm as the man pounds Nanny's receptive backdoor. She EXPLODES a huge cumshot all over her tight tummy, licking it up like a submissive kitty cat. Nanny holds her stretchy anal ring open as the man cums, her bowels flooded with multiple jets of flowing sperm. Nanny shows off her well-used back-pussy and tastes some of the anal jizz. NOW it's time for the massage! Nanny dresses in a red onesie showing off her incredible body. Nanny beckons the man into bed and gives a hot oil massage. Squeezing the bottle of oil the older man is covered completely in slickness. Nanny glides her hands, tits and long dark cock against the man. Giving the massaging gets both of them horny again. Nanny has the man turn over and feeds the man her hot throbbing meat and delicious asshole in 69 position. Nanny slurps on the man's dick and snakes her tongue over balls and man-ass. Her long painting tongue makes the man fully erect as it snakes up the guy's bum-hole. Her rimjob is divine, lapping deeply inside the puckered Farang hole making it sparkly clean. After anal-eating bliss Nanny is soon impaling her bare backside on the man's erect no-condom dick. Nanny slides in the cock and rides cowgirl, then lays back to smash her face into the man's asshole again. The man squats over Nanny's pretty face so he can get her tongue inside completely while she jerks off furiously. Dirty sex makes her wild and she LOVES it. Nanny explodes for her SECOND cumshot, painting her tan, toned tummy again with the impressive load. The man is ready to explode again and makes the FOURTH popshot of this explosive sperm session right into Nanny mouth. Both their balls are completely spent and Nanny goes into the shower to cool down. A nice view of her soaking wet and that brings this scalding hot Ladyboy Dirty Massage episode to a close, only on the LadyboyGold Network.