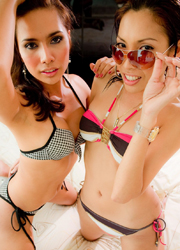 Name:
Ladyboy Various
Birthday:
Various
Weight:
Various
Height:
Various
Cocksize:
Various
Biography:
...
Continue to Model Biography

Hungry For Me Bareback
Description: LadyboyObsession episode 114 with Ning. To be 100% fair, I think Ning kind of looks like a dude nowadays, or to be 110% honest, she always kind of looked like a dude to me. But she had been on my wish list for ages. She was one of the few ladyboys that stayed active on Planetromeo or Gayromeo back in the day, actually active is quite a big word as she logged on maybe once every month, but anyway, I had seen her profile pics of her standing outside in body stockings and those photos were amazing. When she finally answered one of my messages we met for a porn session a day later, at first I though, man, what an ugly girl, but then I was like, man, what a sexy boy. The queer in me really lights up whenever I am with her, but I am always really into her or not into her at all which makes it a it more difficult to plan anything with her, but for this video, I had nothing planned, I just contacted her when I felt like a bit on Ning and we had a great time.