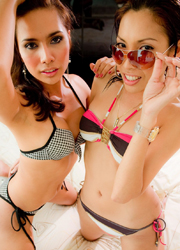 Name:
Ladyboy Various
Birthday:
Various
Weight:
Various
Height:
Various
Cocksize:
Various
Biography:
...
Continue to Model Biography

Armpit Licking and Bareback Topping 4K
Description: Pyetra Radi and her man are insatiable as they suck the juices from every inch of each others bodies. They take turns topping until they both explode together with huge loads! There's something so primal about inhaling the scent of a horny partner, to smell their intoxicating pheromones. Pyetra starts the episode by whipping out her gorgeous dick and pissing. Her smooth cock hardens and now she wants to cum. Pyetra drags her long pink tongue all over the body of her horny lover. She licks his nipples, and feasts on the man's sensitive armpits. The ticklish pleasure is incredible and she licks the man's lips to give a taste. Instinctively Pyetra trails her mouth to the bulge in the man's underwear. Pyetra frees the erect cumstick and bathes it with her wet mouth. The dick slides deeply down her choker clad gullet. Next the man kisses Pyetra, taking down her slutty see through top and licking her smooth armpits. It's the scent of sweat and perfume and drives the man wild. The man laps away and bends over Pyetra, pushing his tongue through the wrinkles of her willing butthole. Soon the man's bareback cock takes the place of his tongue and throttles into her backpussy. The material of her bottoms pulled aside and her asshole pounded relentlessly. Pyetra loves the bare dick against her prostrate and is ready to return the favor. The bends the man over and wets his anus with her mouth. The man arches fully and Pyetra thrusts her long smooth girl-dick up his hungry hole. He belongs to her now. The man's cock is tingling with orgasm but Pyetra wants more. She climbs and impales herself for a cowgirl ride. Pyetra is fucked reverse and missionary, cumming a big sticky load all over her belly. Pyetra's backdoor clenches and tightens with her orgasm, making the man climax. He bathes Pyetra's wildly winking backdoor with a hot creampie injection. The spunk rudely drips from her well-used, easy anus and adds to the pheromone aromas in the room. It's the scents of sperm and sweat, and only on TSRAW.