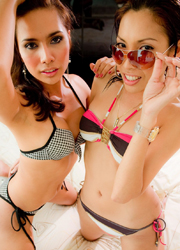 Name:
Ladyboy Various
Birthday:
Various
Weight:
Various
Height:
Various
Cocksize:
Various
Biography:
...
Continue to Model Biography

5 Big Dick Latinas Make a Man Sloppy with Sperm 4K
Description: Marcela Dimov, Isabella Fontanele, Gabrielly Ferraz, Gaby Maiia & Valentina Mendes are here to make your gangbang dreams a reality. These sexy Latina beauties with their amazing beauty, hot bodies and big hard cocks are ready to pump you full of bareback cock. They all want to blow their loads as they been waiting and saving their cum for this shoot. Brazilian Tgirls are always filled with cum and always insanely horny but they been saving up some extra cum just for you and are excited to get this wild session going! They all look incredible in their sexy lingerie, tight bodies and big smiles. TS babes are incredible all around the world but I must say I do not know what they feed the Brazilian babes but they are sex machines and all five of these girls are ready to pound you deep. They all get so excited when they see you walk into the room and drop to your knees, pulling their panties to the side and you start to take turns sucking those gorgeous throbbing dicks as one of them gets between your legs to make sure that your dick gets some oral moist attention. All these girls expect your full attention so you need to make sure to use your mouth and your hands and alternate between the girls to keep them all satisfied. Brazilian tgirls when they get charged up often just budge in and slap that cock right into your face so they are here to help! They of course can't be satisfied just with you sucking and they lie you on the bed, spread your legs as the first girl goes in raw while the others continue to feed you girl cock. You can hardly see with all these cocks in your face and you know that the models are changing positions in your ass because you can feel different size cocks enter you and it feels so damn hot. The girls put you in all sorts of positions and it is quite common for Brazil babes who are all horned up to play with each other. Kissing, licking and even fucking each other raw, once Brazilian models are engaged in sex, they have a huge appetite and often go into a sexual frenzy that will make you never forget your visit to South America! It is really a sight to see. The longer the sex session continues the more likely they will start to not only fuck your brains out but also each other. Surely the hottest position that you have been dreaming of is riding one big cock while another girl sucks you off and the other 3 are slapping your face with cocks and yes in this case that dream comes true. Lying down on your back once again while one of those superstars is in you deep while you are licking the balls of the other you. Finally can't hold your cum in anymore. That shoots off a huge chain reaction. The girl in your ass shoots all over your hole with a sticky creampie insert. The rest of these beauties all surround you to make sure you do not leave without them taking turns blowing their sticky cum on your face, on your tongue and inside of your mouth. The sweet cum of many horny girls is your protein of the day as all the girls cheers, giggle and jump into the shower to give us a little pee action before cleaning up under the warm shower.