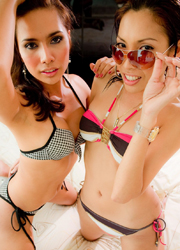 Name:
Ladyboy Various
Birthday:
Various
Weight:
Various
Height:
Various
Cocksize:
Various
Biography:
...
Continue to Model Biography

India Tayna 10 Man Creampie & Swallow Gangbang 4K
Description: Clad in hot pink garter lingerie, caramel beauty India Tayna's lusty backdoor is BRED by 6 men and her tummy filled with 4 stringy loads swallowed with a gulp! India starts the session showing off her bronze rump and incredible TS curves in bed. Soon she is surrounded by 10 studs, all with eager cocks hangout out of their underwear and ready to be feasted on. India's mouth is stuffed full of throbbing cock as her titties bounce from the wild cocksucking. Spit drools onto India's tits as she makes the big dicks sloppy wet and ready. Her Latina backpussy needs pleasing and the men mount her in order, all spit roasting this goddess with balls-deep barebacking. India's mouth and asshole are constantly full as the men use this beauty roughly. Each time a cock plunges inside India's anus and pulls out, a glorious gape of anal flesh is seen in graphic closeups. India loves it and windmills her ass in approval in pleasureful gyrations. India is next taken cowgirl and reverse cowgirl, her cock waving wildly s cock impales deep in her slutty butthole. All of the salacious anal pleasure has India on the brink of orgasm, and she strokes all the cum from her meaty Latina cock. The men are ready to cum too, and with India still in the throes of her intense orgasm they start to breed her. Man after man line up at her wide open, wet, gaping asshole and start to cum inside. Hot jizz erupts all over her used anus and inside her insatiable bottom. Each man deposits their sperm loads inside India, making her butthole a mess of sticky sperm. As the men cum inside, more men line up and start to unload into India's wide-open lips. Her mouth is awash with salty semen, and she swallows it all with a healthy gulp. The room is scented with sex and sweat, and the unbridled electricity of an incredible bareback gangbang. Only on TSRAW.