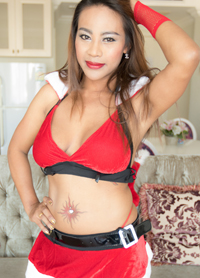 Name:
Ladyboy Jasmine
Birthday:
21th of November
Weight:
116lb (53kg)
Height:
5'5 (165cm)
Cocksize:
8 Inches (20.3cm)
Biography:
Incredible. That's the first words we uttered after picking our jaws up off the floor. Jasmine is completely passable as a sexy dark Isarn girl. But...
Continue to Model Biography

Ladyboy Fucks Guy POV
Description: Big cock Jasmine fucks a guy POV! Admire the incredible rod of this hung Ladyboy as she takes control. Jasmine gets a handjob and turns over for insertion of a black buttplug. Her cock is THROBBING and she prepares the guys ass for fucking. Jasmine licks his asshole and slips her finger inside to her knuckle. Her devilish smile is her knowing it will be a tight fit for her stallion cock. Jasmine is already dripping precum as she pushes inside. She strokes the guys cock as she pounds away. Jasmine's big udders titty fuck the guy while her cock is inside his ass. It's too much pleasure for the guy to take. To Jasmine's satisfaction the pressure of her big prick again his prostrate makes him cum uncontrollably. Cum everywhere, the buttplug is removed from Jasmine's deep ass. She cranks her big girlie stick and cums on her belly and belly button. Fully spent follow Jasmine in the shower as she cleans her swinging cumstick and hanging sack with lots of soap. Jasmine is all smiles knowing she's seduced another guy into becoming a Ladyboy bottom.