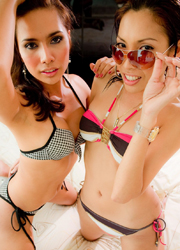 Name:
Ladyboy Various
Birthday:
Various
Weight:
Various
Height:
Various
Cocksize:
Various
Biography:
...
Continue to Model Biography

Ladyboy Escort For Thai Wife
Description: A bored Thai hotwife decides to cheat on her husband with a Ladyboy escort! No condom at all as the Ladyboy seeds the married Thai wife's womb. The housewife searches the internet for escort ads until she finds a big cock Ladyboy. She makes contact, and when the Ladyboy comes in the door they hit it off right away. Soon they're embracing and kissing, exploring each others bodies. A soon as the Ladyboy's erection pops out the wife eagerly wraps her lips around it. She is excited to enjoy a cock different than her husbands and an extra thrill knowing it's a girl-cock. The Ladyboy strips the wife of her dress and explores her soft womanly body. The Ladyboy licks from the wife's nipples to her soaking wet pussy. The dynamic between both is electric and they kiss and taste each other. The wife nibbles on the Ladyboy's ear while stroking her cock. The Ladyboy is rock hard and she swings her leg over and they 69 together. The Ladyboy mashes her face into the wife's married slit and slides her dick down the willing throat. It's time for sex and the Ladyboy is fully erect. Without a condom in sight the Ladyboy rubs her bareback cockhead against the precious opening of the fertile wife. The wife has a moment of hesitation since she's not on the pill but is swept up in the heat of the moment. She wants to feel a new dick! The Ladyboy fucks the Thai wife missionary, cowgirl and doggystyle. The Ladyboy's dick throbs as they make passionate love together. The wife hold her legs high and climaxes. She can't get enough of the Lady-dick and the thrill of the kink and risky bareback sex gives her multiple orgasms. The Ladyboy feels the clenching of the wife's promiscuous cunt and starts to cum in the wife's willing womb. The final jets of spunk shoot outside and the Ladyboy re-inserts in the wife's hot Thai pussy. Possibly bred with the Ladyboy's cum makes the wife's mind spin. She comes back down as the Ladyboy places her pussy and sperm flavored cock in the wife's mouth to suck on. The wife gently cleans it off with her tongue, tasting the mixture of their love juices.
Video length:
31:29
Model(s):
Various
a Ladyboy Gold exclusive