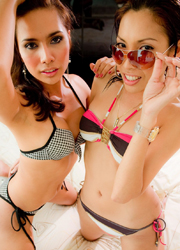 Name:
Ladyboy Various
Birthday:
Various
Weight:
Various
Height:
Various
Cocksize:
Various
Biography:
...
Continue to Model Biography

Sexy Sailor Tops Farang
Description: LadyboyObsession episode 115 with Mona. I don't know what it is about girls wearing sailor or Navy or stewardess or nurse and so on outfits. But I love it, maybe it's because they are in service to you to make you safe or happy. Or maybe in this case it's just because I saw that show Love Boat on tv with the catchy theme music knowing I'd never be able to afford to go on a trip like that. Let alone a cruise ship with girls with tight bodies and rock hard cocks, it's just never gonna happen, not for me. If I were some rich rich guy, I know what I would do with that money, buy me a huge yacht and have a number of Mona's parade around wearing proper uniforms serving me my food, scrubbing the deck, iron my clothes and suck my wiener. Again, never gonna happen but a man can dream right? I had actually bought this uniform ages ago but Mona is the first to fit it perfectly. See for yourself in her new video. And yeah, if you ever met her wearing this, you're welcome, I let her keep it is it fit so well. Enjoy!