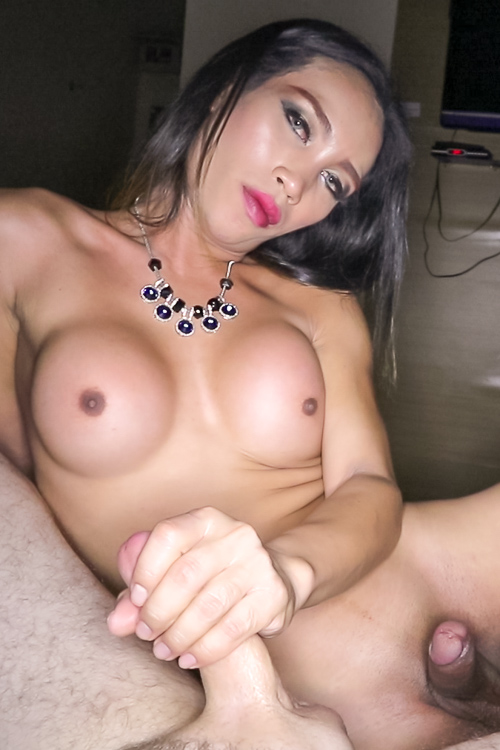 Name:
Ladyboy Deedee
Birthday:
Dec 16
Weight:
118.8lb (54kg)
Height:
5'4.5" (164cm)
Cocksize:
6.5 Inches (16.5 cm)
Biography:
Deedee a.k.a Deedy is as sexy as they come. She's short, with big tits and slim hips. Deedee has a beautiful, VERY wrinkled and stretchy asshole...
Continue to Model Biography

Hung GF Big Cumshot Bareback Handjob
Description: Deedee is the vision of sex in this hot barebacking and handjob episode. From the very beginning, Deedee teases with her fit body in a one-piece girlfriend shorts outfit. Deedee's tits pour from the top and her long dark cock pokes from underneath the shorts bottom. Deedee spreads her buns and shows her extremely wrinkled asshole. Deedee comes into bed and immediately starts sucking cock and eating ass. With the cock erect Deedee takes a big bottle of oil and makes the POV dick slick. Deedee pumps her hand up and down feeling the cock throbbing in her hand. Deedee makes sure to play plenty of attention to the guys asshole as she gives a scalding handjob. Deedee's hand moves from the POV's asshole to her own stiff cock. Deedee is one hung & hot Ladyboy, and strokes her stiff rod then rubs it against the POV's. She can't wait for sex and lays back with her legs in the air. Deedee's big balls hang like curtains for her asshole. When her balls are lifted her flexing anal ring begs for bareback penetration. And thats what Deedee gets! The bareback cock rubs against Deedee's shiny rod and balls, then makes a bullseye target for her wrinkled back-passage. Deedee is barebacked and LOVES IT. Plenty of close-ups of the dick penetrating her and her balls played with. The dick goes to Deedee's mouth as she wanks away. A GIANT CUMSHOT spurts from Deedee's dick and all over her silky Ladyboy body. The POV slams into Deedee a few more strokes then cums all over and inside her wide-open butthole. Deedee rubs in the spunk then scoops some of the cum for a taste. An incredible LBHJ episode.