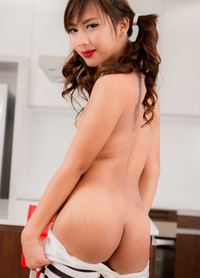 Name:
Ladyboy Pancake
Birthday:
25th of January
Weight:
112lb (51kg)
Height:
5'5 (164cm)
Cocksize:
5 Inches (12.7cm)
Biography:
Pancake really blew us away. Even though she's only 18 years old this bubble butt teenager is barely legal but has the confidence and maturity of...
Continue to Model Biography

Girlfriend Dress Creampie
Description: Pancake shows she is the perfect girlfriend as she puts on an anal bead show and has her gorgeous Ladyboy ass filled with sperm! Wearing a white girlfriend dress, Pancake playfully pulls up her skirt and shows her panties. Pancake is sporting new tits and is eager to show them to you along with her immaculate o-ring. Pancake's uncut cock is already dripping sticky precum. Pancake lifts her legs in the air and penetrates her ass with a black anal beads. She takes all the anal beads inside and graphically pulls them in and out. Pancake can't wait for bareback lust and walks with a sexy sway to the bedroom. The anal beads are still inside as Pancake's anus as the two cocks rubs together. Pancake's cock rubs against the POV's in frottage and gently stroked. The anal beads are pulled out and get another heavenly view of Pancake's perfect anus. Pancake gives a sweet and loving POV blowjob getting the guy ready. Pancake turns around and has her brown cheeks in the air. Her buns are oiled up and the bareback POV cock slides between the cheeks and into Pancake's anal prize. Pancake's buns shake as she's fucked doggystyle, then lays missionary so you can see her cum. Pancake is so horny from all the stimulation she cums fast. She shoots her girl jizz onto her belly and towards her tits. The POV pounds into Pancake's soft anus, with lots of gapes of her pink anal opening. The sight of this goddess and sensations of her perfect ass is too much and the POV starts to unload. Hot spunk completely breeds Pancake. Her pretty butthole is messy with sperm and the anal beads pushes cum deeply inside this Ladyboy angel.