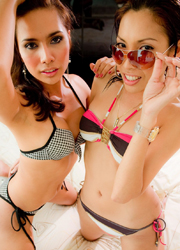 Name:
Ladyboy Various
Birthday:
Various
Weight:
Various
Height:
Various
Cocksize:
Various
Biography:
...
Continue to Model Biography

Bent Over Slut Skirt Creampie, Sperm Messy Winker 4K
Description: There are ladyboys and then there are super-hot ladyboys and Snack certainly is the latter. She is stunning and so well put together with her make-up, outfit and just the way she moves over to you at the bar. She is a fan favorite so getting the chance to sample her goods is a chance you just have to take. She is all natural with long legs and that mesh dress that gives you a tease of what is underneath has got to make your cock stand up and take notice. Do you like her dildo toy? Well, she has got something better as she allows you to slide her panties over and take out her precum dripping cock. She loves your touch and you slowly jerk her to get her even more horny for what is coming next. You already got a taste of that hot ass at the bar every time she stood up to walk over to the bar you watched those long legs flow up to the tight short skirt. She knows her little ass is amazing so why not flaunt it. Her plan has already worked as here you are in the bedroom pulling down those panties all the way as you stick toys in her ass and move your other hand between her legs to tease that ladyboy cock. She would love to give you a hand as her fingers with those huge nails help spread her ass cheeks far apart. She can't wait to use these same nails on your back as you enter her. Getting on her knees she looks up at you at bats those big eyelashes before swallowing your big cock. Those big dark eyes widen and she can feel you grow in her mouth. Time to get on top of you and grasp your cocks together. The feeling of two precum dripping cocks together turns her on, so much in fact that she gives you a wink and takes in your cock raw deep into her ass. Her ladyboy cock is rock hard shooting up straight like an arrow. Do not be shy you can stroke it wild she rides you; she loves your touch and she loves it makes you even hornier. She lies on her back and wants you to push in as far as you can go. She wants every single inch of you inside of her as she cums a very sticky snack all over her stomach, you are allowed to taste her, she is delicious. One thing you can't get out of your mind though is when you saw those nails spread her ass open and you want to see that again. Doggystyle time as you pump her hard and blow a creampie all over that gaping hole. You really want her to feel like she is yours tonight and you push the cum back into her ass as she gives out a light sexual gasp of pleasure. Another fantastic night in Thailand now time to head to the shower and see that milk chocolate body wet and glistening, surely to get you in the mood to go all over again in just a few minutes.
Video length:
1:05:17
Model(s):
Various
a Ladyboys Fucked Bareback exclusive
Views:
2122
Categories:
Anal
,
Anal Toys
,
Bareback
,
Blowjob
,
Braces
,
Close-ups
,
Creampie
,
Cumshots
,
Deep Throat
,
Gaping
,
Hardcore
,
Mini Skirt
,
Natural Tits
,
Panties
,
POV
,
Sexy
,
Small Cock
,
Small Tits
,
Stroking