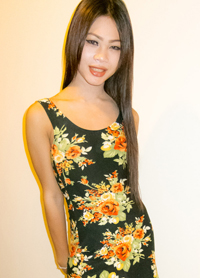 Name:
Ladyboy Nadia 3
Birthday:
4th of June
Weight:
121 lbs (55kg)
Height:
5'8 (173cm)
Cocksize:
6 Inches (15.4cm)
Biography:
Nadia is a true gem of a Ladyboy. 19 years old and gorgeous. Sweet smelling, Nadia has a clean body without a tattoo or blemish. Her uncut foreskin...
Continue to Model Biography

Shimmering Pigtails Hardcore
Description: A ladyboy closer to a perfect 10 you simply won't find. Her name is Nadia and she's a absolutely stunning mindfuck of a ladyboy. She self admittedly tricks guys all the time thinking she's a genuine girl and I believe it. Just walk into any place with Nadia and she turns heads, cross the road and she will stop traffic, show up 5 minutes late and a random stranger is trying to score her number. She's that kind of Tgirl. This is your one shot opportunity to get close-up with Nadia in this all exclusive LadyboyGold episode. Nadia is wearing a sexy silver bikini top and bottom with high heels. The scene starts off with Nadia preparing her hairdos and make-up for the scene, as if she wasn't looking HOT enough already! The camera shows her doing the preparations from a unique mirror angle, then moves in slow motion from top to bottom and front to back. The POV dude slowly walks back and lays down on the bed comfortably as Nadia crawls towards his cock like the tigress she is. Nadia moves her scarlet red painted nails teasingly across his thighs followed by a slow motion jerk. As the camera zooms-in Nadia puts her wet lips on the tip of his cock. She maintains perfect eye contact using lots of spit as lube. She services his cock from top to bottom while exposing her own rock hard girlie cock. Nadia is now pleasuring both him and herself! What an incredible view. Nadia is over the top horny and ready to get fucked. Her oiled up body and buns shine of glory. Nadia opens a condom wrapper with her teeth while providing extra thrust of pleasure with her bare feet. She puts on the condom in a swift move and leans back in missionary position. She uses her hands to gape open her love tunnel. His cock slides in with ease as Nadia moans of pleasure. This fuck is so HOT you'd have to see it to believe it, the POV guy cums in just a few minutes INSIDE of his condom to then dump it all over Nadia's girlie cock. Nadia's immediate response is evidence of a hot fuck, witness Nadia using his cum as lube to jerk off and erupt hot jizz just a minute later! Since the temperatures in the room got horny and heated it's time for a cool down in the shower. ENJOY!