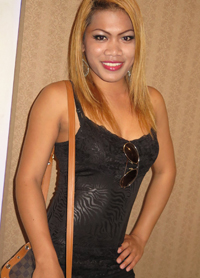 Name:
Ladyboy Reya
Birthday:
24th of February
Weight:
121lbs (55kg)
Height:
5'6 (168cm)
Cocksize:
6.2 Inches (15.7cm)
Biography:
Reya is girlfriend material. When she smiles it truly lights up the entire room. She's brown and down, with an all natural body and blonde hair....
Continue to Model Biography

Reya - GF Material Creampie
Description: Reya is a firecracker who's as dirty as her blonde hair. Besides being playful with a great personality Reya has a BANGIN natural body. Great smile, dark silky skin, a bubble butt, a cock that's EASY to get hard, a deep willing ass ... well I could go on and on but you get the point. Tried as I might to hold out and fuck this darling more but when she was bouncing up and down on my cock reverse cowgirl there was no way to hold back and I filled her slick ass-pussy with a geyser of spunk. Even though I just came, my cock went back into her open hole and mixed the sperm inside her. It was Reya's turn to cum and could tell how horny she was with precum dripping from her cock. I fucked Reya more and she stroked herself off. A gooey reward shot from her piss slit onto her belly. Reya's a fantastic girl and can't wait to see her again. Nice long date with this angel and enjoyed every minute of it. Girlfriend material 100%. Side note: I'll admit to being a jackass since the whole night I was calling her "Leia" (like Princess Leia). It wasn't until she put her number in my phone that I got her name right and gave myself a facepalm.