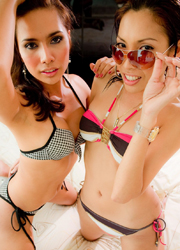 Name:
Ladyboy Various
Birthday:
Various
Weight:
Various
Height:
Various
Cocksize:
Various
Biography:
...
Continue to Model Biography

Purple Eyes, Beads & Creampies 4k
Description: Ladyboy Bon is wearing a sheer black robe over pink lingerie. She stands on the bed and poses her smooth body for the POV. She pulls her top down a little, exposing her nipples. She then gives each of them a squeeze until milk comes shooting out of them. She gets down on her hands and knees to suck on the POV cock and deep throat him. Next Bon unbuttons her lingerie down below so she can get access to her backdoor. She takes some oiled anal beads and pushes them in and out of her asshole. Then she sucks the POV as they each work the beads in her ass. The POV positions himself on top of her face and she sucks his balls and licks his asshole. Then he pulls out the beads and fucks from behind bareback. Finally the POV lies on his back and Bon takes a second to squeeze a stream of milk from her tit and then gets to work stroking the POV cock and then riding on it. She then pivots around and rides him reverse cowgirl. She dismounts, sucks his cock, and then rides him some more. Then the POV fucks her on her back as she strokes herself until she shoots her load. The POV pulls out, cums on her ass, and reinserts into her.