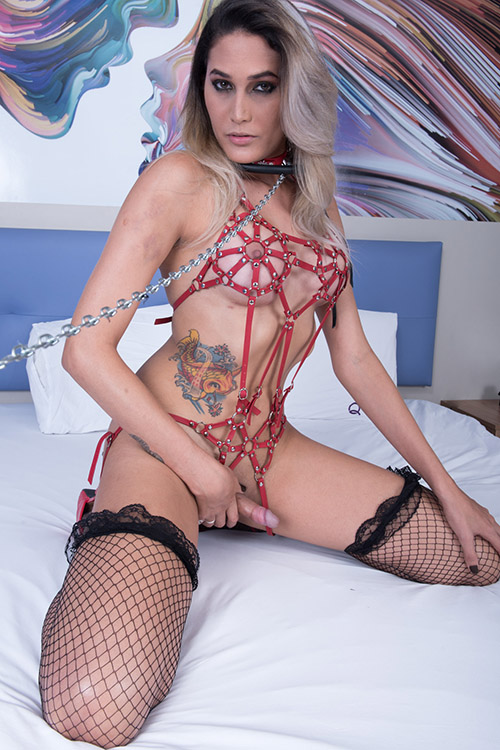 Name:
Ladyboy Belatriz
Birthday:
July 12
Weight:
132 lb (60kg)
Height:
5'8" (173cm)
Cocksize:
7.1 Inches (18cm)
Biography:
...
Continue to Model Biography

Piss Swallow Bareback Threesome 4k
Description: Belatriz & Rayra Spanick have a kinky POV barebacking session, ending with both girls drinking hot piss! These two TS goddesses get right to it, kissing each other and licking full tanline tits and erect candy nipples. Both are horny and pull down the swim shorts of the POV guy to expose his hardening rod. The girls take turns worshiping the big dick. They stroke and deep throat the shaft like its their sole purpose in life. They continue to pleasure the cock while pulling out their own girl-cocks. Whenever their mouths aren't on the POV's cock they turn their thick lips to the other TS's cumstick. The Belatriz is first to get onto the bareback dick, moistened by Rayra's wet mouth. Belatriz rides reverse cowgirl, blowing Rayra while enjoying the raw dick inside her sphincter. Belatriz rides reverse and cowgirl, and when switching Raya turns her lips to Belatriz's sweet cock. Next it's Rayra's turn and she slips the bareback dick inside her ready backdoor and strokes herself. Belatrix tastes her and the girls flip flop on the pumping POV's erection. For the finale Rayra lays back missionary, pumping her nice dick while being barebacked. Belatriz feeds her TS cock and strokes herself off into Rayra's hungry mouth. Rayra cums with the taste of sperm in her mouth. The POV gets both girls on their knees and cums inside Rayra's mouth. She shares a kiss with Belatriz then both girls open their mouths for more. The POV is ready for a post-sex piss and feeds these thirsty girls streams of hot salty piss. Both these kinky vixens love to serve and eagerly swallow the POV's golden pee. Afterwards both girls also pee, emptying their bladders and shaking their spent sticks. This bringing an end to this sperm and piss filled episode. This exclusive, ultra-kinky episode is only available on TsRaw.