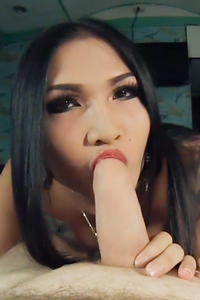 Name:
Ladyboy Benzey
Birthday:
Weight:
Height:
Cocksize:
Biography:
...
Continue to Model Biography

Piss Drinking BJ & Milking
Description: What a great find Benzey was, she was one of the first Ladyboys I ever shot videos with and although she is quite strong and clearly no one should mess with her, she is amazing to be with. She is patient, friendly, she remembers stuff, you can tell because she doesn't ask the same questions she asked before in previous meetings. Combine all that with her sex drive and you have a real winner. A fit, strong rocking body, ink on her skin, a nice dick, a pretty face, it must be a diva right? Nope, it mustn't, she is absolutely anything a horny bastard with a Ladyboy fetish could ever want, how many Ladyboys with her features and beauty would let you piss on her body, her face and in her mouth? Not many, Benzey is elite! If you ever have to chance to spend time with her, make sure you jump on the opportunity, you won't be sorry. There is only one Benzey and she can't be everywhere at the same time so for those who are not lying next to her right now, enjoy her latest Ladyboy Vice entry right here in your Ladyboy Gold home.