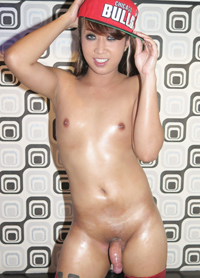 Name:
Ladyboy Patty 2
Birthday:
29th of November
Weight:
145.2 lbs (66kg)
Height:
5'6 (167cm)
Cocksize:
6 Inches (15.2cm)
Biography:
Patty is a lovely Ladyboy with the body of a woman. Curvy and soft in all the right spots and HARD in the only spot that matters Patty is wife...
Continue to Model Biography

Patty - Hidden Cam Sex Massage
Description: I spotted Patty off Soi Buakaow in front of a seedy massage parlor. The area is well-known for it's dirty massages and when Patty called to me "sexy man" and waved me down thought would give her a try. She has a very pretty face and natural body. We negotiated price and went up to the room. Patty told me to undress and left the room. I took this opportunity to set up my camera and point it toward the massage bed. After quickly placing the camera I went back into bed and waited for her face down on the bed. Patty came back in the room with baby oil and dressed in only a towel. Knew for sure this was going to get good. Patty had me lay on my belly with my ass exposed. She covered my butt and back in oil and slowly massaged. Her fingered rubbed all over and her felt so nice squeezing my ass cheeks. Trailing her fingers down my crack Patty caressed and teased my anus. My cock was growing uncomfortably rock-hard beneath me. Patty moved behind me and start rimming my exposed asshole. It felt so good! Her tongue swirled as her hands held my ass. That's when Patty's mouth left my ass and there was a break in the action. Those few seconds seemed like and eternity as I waited for what came next. That's when more oil trickled down my crack and over my asshole. Without warning I could feel Patty's cockhead press again my anus. She slowly pushed the head past my o-ring and started topping me! It was so hot feeling the power of this pretty dickgirl behind me. Patty fucked me for a while then moved into a 69 position dangling her meat in my face. I was driven by cock lust now and didn't care where her cock had just been. I sucked her off while she went to work on my shaft. The scent of oil and sweat from her crotch was an aphrodisiac as I dove in. I licked her balls and asshole, enjoying the touch of her soft feminine body. Patty wanted to be fucked and climbed on top for a cowgirl ride. She lowered her asshole down on my bare shaft and bounced up and down. We embraced and kissed, all the while my cock pulsated inside her. It didn't take long until I was shooting semen inside her silky Ladyboy ass-pussy. Patty kissed me more then slowly slide my still-hard cock from her ass. She went off to shower as I laid in be trying catch my breath from the incredible session.
Video length:
21:10
Model(s):
Patty 2
a LB Girlfriends exclusive