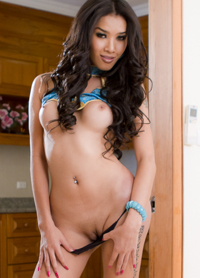 Name:
Ladyboy Lilly
Birthday:
18th of October
Weight:
132lb (60kg)
Height:
5'9 (175cm)
Cocksize:
SRS
Biography:
WOW. Lilly is the total package and exactly what a post-op fuckdoll should be. Lilly is gorgeous AND slutty, with wild tattoos and the sex drive of a...
Continue to Model Biography

Lily - Rushed Quickie Bareback
Description: I was having a coffee early morning telling myself I was holding an office job to go to later on when I thought I saw Lily rush by outside. She was in a hurry so I had no time to double take so I pulled out my phone and called her and indeed I saw her stop walking and take out her phone. I said she looked different and I liked it. I asked her what she was doing, she said she had to buy some make up and hurry because she needed to go to the airport to be there when here boyfriend arrived. I asked her if she had time to make a quick video, you never know how long her boyfriend would stay and occupy her. She said no, I promised I'd hurry things up and then she agreed anyway. I stayed true to my promise, one we arrived at the room I told her to just take off her shoes and pants, when she went into the bathroom to clean out her ass I reminded her there was no time for that. A few moments later we were at it and we had shit flying and dripping all around. She told me afterwards she loved the feeling of having her shit pushed back in and how it made her feel full and how the pressure made her feel all of her insides move around and on and on but all I can say, I advise anyone to not take rushing too seriously and be glad you only see what happened and not smell it.