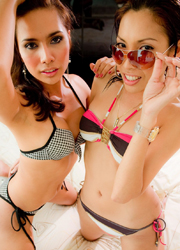 Name:
Ladyboy Various
Birthday:
Various
Weight:
Various
Height:
Various
Cocksize:
Various
Biography:
...
Continue to Model Biography

Cassia's Ultimate 12 Man Creampie Gangbang 4K
Description: Cassia Fernandez has got the call that they need a horny Brazilian Tgirl that loves to take on a lot of hard cocks. She quickly said yes and was at the shoot that same day dressed in this cute little outfit and all dolled up to take those bareback cocks. She has been waiting for a gangbang opportunity for some time now and when she sees those guys come in in their little black shorts she only can put on a big smile and feel a sweet sensation coming from under her own panties. She has a lot of make up on and really wanted to look hot for these guys but she already knows by the end of this session her face is going to be a big mess of sticky cum and she just can't wait. All these horny dudes surround her as she gets even more excited with all those cocks in her face. Swallowing each one that comes close to her mouth and deepthroating as much as she can. Sometimes a little gagging and spit comes of that sweet mouth but no one cares they know she is being a good girl trying to inhale all those inches. Lying on her back she spreads her legs wide open in hopes of some raw cock and she gets it quickly with every single guy here wanting to be the first inside bareback but this lucky guy surely will not be the last. Cassia Fernandez body has already started to shine from the sweat of taking on some many dicks and it looks glistening making her even more erotic and desirable. As one guy pounds her ass, she actually uses two hard cocks to keep her balance and stabilize which is actually hot and funny at the same time. Cassia Fernandez loves to look up at every guy she sucks to see their reaction with her big brown eyes. Flipping her over on her hands and knees one horny guy spreads her ass wide to see a very sweet pink hole that he is planning on wrecking with his huge raw dick. When the other dudes see that pink hole, they all want in and many take turns before she settles on top of one guy with her little Latina cock flopping while riding. All the while she never sees the light of day with all those dicks constantly in her face. The first of many guys takes out his cock and blows his load all over that hole and pushes it back in. That is enough for her to get so horny she unloads her own girl cum that shoots over her cute stomach. A couple more creampies enter her while the other guys shoot their loads all over her pretty face and in her mouth. Her smile is still just as big as it was from the start of the scene, she is loving every bit of sticky jizz that enters her ass and slides down her throat. It is not always about the girl as one of the guys just has to taste her as well and jumps between her legs to lick her cum that is still sliding down her cute girl cock shaft while the last guy empties into her mouth while she swallows it all down. That final taste of cum makes her so horny once again she goes in for another cumshot while that same guy sucks her off, shooting even more cum into his mouth and he gladly licks it all up.
Video length:
1:17:06
Model(s):
Various
a TSRAW exclusive
Views:
2269
Categories:
Anal
,
Bareback
,
Blowjob
,
Close-ups
,
Creampie
,
Cumshots
,
Deep Throat
,
Facials
,
Gangbang
,
Gaping
,
Handjob
,
Hardcore
,
Lingerie
,
Natural Tits
,
No Panties
,
Sexy
,
Small Cock
,
Small Tits
,
Stroking
,
Wet