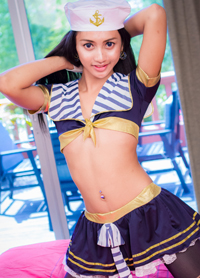 Name:
Ladyboy Natty
Birthday:
8th of December
Weight:
114.4lbs (52kg)
Height:
5'6 (167cm)
Cocksize:
6 Inches (15.4cm)
Biography:
We'll give you a moment to pick your jaw up off the ground. Because that was our reaction when Natty showed up to casting for LadyboyGold. Even to...
Continue to Model Biography

Blue and White Nighty Bareback
Description: Natty is sprawled out on the bed in a cute little blue and white nightie with white pantyhose in this episode. Natty exposes her soft, supple breasts and a raging hard cock already dripping with precum. The POV Goes in for a closer investigation, stroking her cock and sucking her tits. The POV then runs oil onto Natty's breasts and cock and begins frotting with her cock. Natty gets on her hands and knees and starts sucking POV cock and balls like a vacuum cleaner. In anticipation of the anal debauchery about to begin, the POV draws a lube injector full of coconut oil and drives every drop into Natty's ass-pussy. After a kiss coupled with more frotting, the POV pushes his bare cock missionary into Natty's warm inviting hole. Next, Natty gets on her hands and knees for more cock, but her lubed up and used hole is first met with the POV's tongue and then fingers before getting pounded again by the bare cock. Natty next begins eating the POV's ass and sucking cock some more before sliding onto the POV cock cowgirl. The POV begins thrusting furiously underneath Natty and she is unable to hold back from spurting ropes of white Ladyboy cum, soaking the POV's chest. The POV then fucks Natty doggy while Natty's cum rolls down his chest working its way down into the sodomy below. The POV pulls out, giving Natty the honor of finishing the POV cock with a handjob as cum fills her mouth and falls onto her breasts.