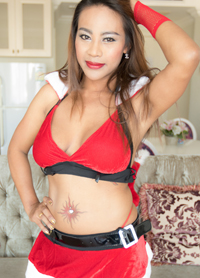 Name:
Ladyboy Jasmine
Birthday:
21th of November
Weight:
116lb (53kg)
Height:
5'5 (165cm)
Cocksize:
8 Inches (20.3cm)
Biography:
Incredible. That's the first words we uttered after picking our jaws up off the floor. Jasmine is completely passable as a sexy dark Isarn girl. But...
Continue to Model Biography

Jasmine - Chains, Top, Creampie, Kinky Piss Taste
Description: Big dick Jasmine is ready for a kinky session! Underneath her tight miniskirt she's wearing a leopard and chain lingerie bikini. Jasmine's immense cumstick juts from her curvaceous body and she can't wait to plant it up a guys ass. Jasmine licks deeply in the guys ass then sprays coconut oil onto his anal opening. Her cock is also slick with oil and she slowly slides the tip of her uncut bareback cock past the sphincter. Her fat dick stretches the guy full as she presses it in as deep as she can. Jasmine caresses his cock with her oily hand while ramming her rod home. She fucks the guy missionary and doggystyle, bending him over the couch and taking full control. After having her way with him she demands to have him fuck her and she lays back missionary position herself with her big erect cock waving in the air. Her brown buns part and easily accept cock inside her tight puckered sex hole. Jasmine strokes her long thick cock until she gushes Lady sperm onto her belly. The cum pools inside her belly button and drains off her side. Jasmine wants cum inside her and bends over doggystyle for a sticky breeding. A hot view from underneath while this fertility goddess Ladyboy has cum shot into her asshole then pushed inside her silky bottom. Stringy sperm hangs from her pulled aside panties and low hanging dark balls. Jasmine spreads her big ass and shows her cumfilled-winking anal prize.